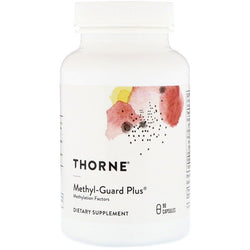 Thorne
Thorne Methyl Guard Plus - 90 Capsules
Description:
Methylation Factors
Dietary Supplement
Heart / Vessels
Mood
Gluten Free
Supports heart, blood vessel, brain, and bone health by enhancing healthy methylation.
Methyl-Guard Plus provides 5-MTHF (active folate) and the active, tissue-ready forms of vitamins B2, B6, and B12 to support healthy methylation for cardiovascular, cognitive, and bone health.
Suggested Use:
Take 1-3 capsules daily or as recommended by a health-care practitioner.
Other Ingredients:
Hypromellose (derived from cellulose) capsule, calcium citrate, calcium laurate.