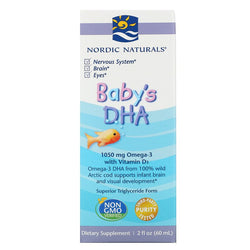 Nordic Naturals
Nordic Naturals Baby's DHA - 60ml
A baby's brain more than doubles in size during the first years of life. DHA is the primary building block of brain tissue. Adequate intake of DHA is essential for proper brain and visual development, and remains necessary throughout life to maintain brain, eye, and nervous system health.
Nordic Naturals Baby's DHA is the official baby's omega-3 of the American Pregnancy Association, and is the #1-selling baby's omega-3 in the U.S. Nordic Naturals have always used 100% wild Arctic cod in their cod liver oil products, including Baby's DHA — no fish body oils or synthetic additives are ever used.
Every batch of Nordic Naturals fish oils is tested by a third-party certified lab for environmental toxins, including heavy metals. All fish oils are in the triglyceride form and surpass the strictest international standards for purity and freshness.