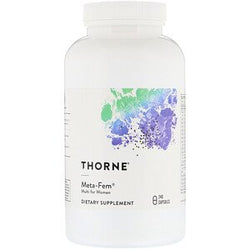 Thorne
Thorne Meta-Fem Multi for Women - 240 Capsules
Description:
Multi for Women
Dietary Supplement
Women's Health
Foundational
Gluten Free
Meta-Fem is a daily supplement that provides peri- or postmenopausal women with vitamins and minerals for maintenance of healthy bones, as well as support for hormonal changes they are experiencing.
Suggested Use:
Take 4-8 capsules daily or as recommended by your health-care practitioner.
Other Ingredients:
Hypromellose (derived from cellulose) capsule, microcrystalline cellulose, calcium laurate, silicon dioxide.