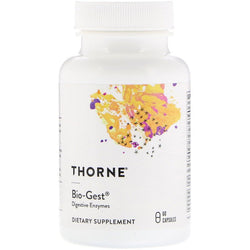 Thorne
Thorne Bio Gest - 60 Capsules
Description:
Digestive Enzymes
Dietary Supplement
GI Support
Gluten Free
Bio-Gest helps digest fats, proteins, and carbs by supplementing HCl, pepsin, pancreatin, and ox bile, which can be depleted by many things, including age, antacid overuse, and gallbladder removal.
Suggested Use:
Take 1-2 capsules with each meal or as recommended by your health-care practitioner.
Other Ingredients:
Hypromellose (derived from cellulose) capsule, leucine, silicon dioxide.